I'm in desperate need of Vietnamese Pho. It's like heaven in a bowl, with noodles. This is my feel good food and I only seem to get it when we are in a different state. Like Oregon or Washington. Their Asian communities are huge, unlike Chicago. There are a few Pho places downtown, but we haven't tried them yet. I'm doubting they are on par with the West coast Pho restaurants.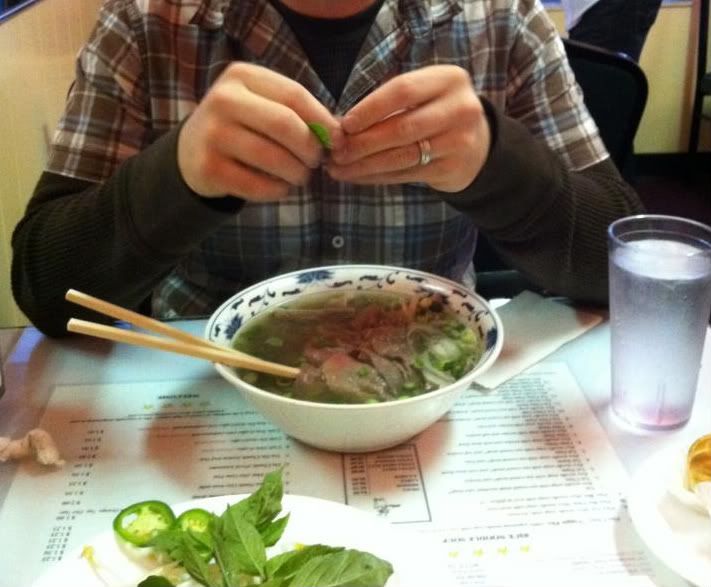 Instead, I'm hoping to take a trip to Chinatown and visit an Asian supermarket and pick up the Pho essentials. I found a fantastic crockpot recipe.
Steamy Kitchen's Crock Pot Pho
Number one, it's fuss free. Number two, my house will smell amazing. Number three, it's Pho!
I snagged my dad's old, BIG crockpot for this recipe and cannot wait to try it! With the weather turning nasty so soon, I'm craving all my favorite soups. In the mean time I'll boil down the bag of chickens feet I snagged at the last farmer's market. If you want the best chicken broth on the planet, you have to use chickens feet. I like to have stock in the freezer for "health emergencies". As in I'm too tired and sick to cook anything, so I thaw stock and throw in some veggies.
Nourished Kitchen's Chicken Soup Cure
I always feel better after a hot bowl of homemade soup. Now I know why.
I'm a very firm believer in natural remedies over antibiotics. While they have their time and place, pharmaceutical companies are creating super-bugs with their super-antibiotics. Our bodies are getting to the point where we can't fight off simple viruses on our own. I don't like that. Not one bit.
When I feel a cold or sore throat coming on, I drink ginger tea. It's super easy to make and everyone I've made it for is hooked. All you do is peel a chunk of ginger, slice it thin, boil it till the water is straw yellow, and serve with honey in a mug. It's a bit strong in flavor, but I absolutely adore it. The tingle is warming and the honey soothes.
I also love apple cider vinegar. Now, this is something that is an acquired taste. I don't always drink it straight. Sometimes I mix it in with a cup of warm water. The health benefits outweigh the taste though. This stuff is the bomb for sore throats. If it doesn't kill the bacteria enough to cure you, a doctor visit is usually in order. Generally, this does the trick. I'll actually drink a tablespoon or two a day then gargle with a shot of warm water till I feel I've coated my throat. It stings a little, depending on the rawness.
Bragg's Apple Cider Vinegar
is my favorite brand and the only one I will drink or gargle.
I've done the salt water gargle, the cayenne pepper gargle, and the lemon gargle. From my experience, the apple cider one is hands down the best for sore throats. Followed by the ginger tea with honey, I'm all set. It's even better with a gigantic, steaming bowl of homemade chicken soup.
In the mean time, chicken soup will have to fill my Pho void. And while I wait for that, guess I better go fold that laundry.... >:(